Jefferson Scholars Foundation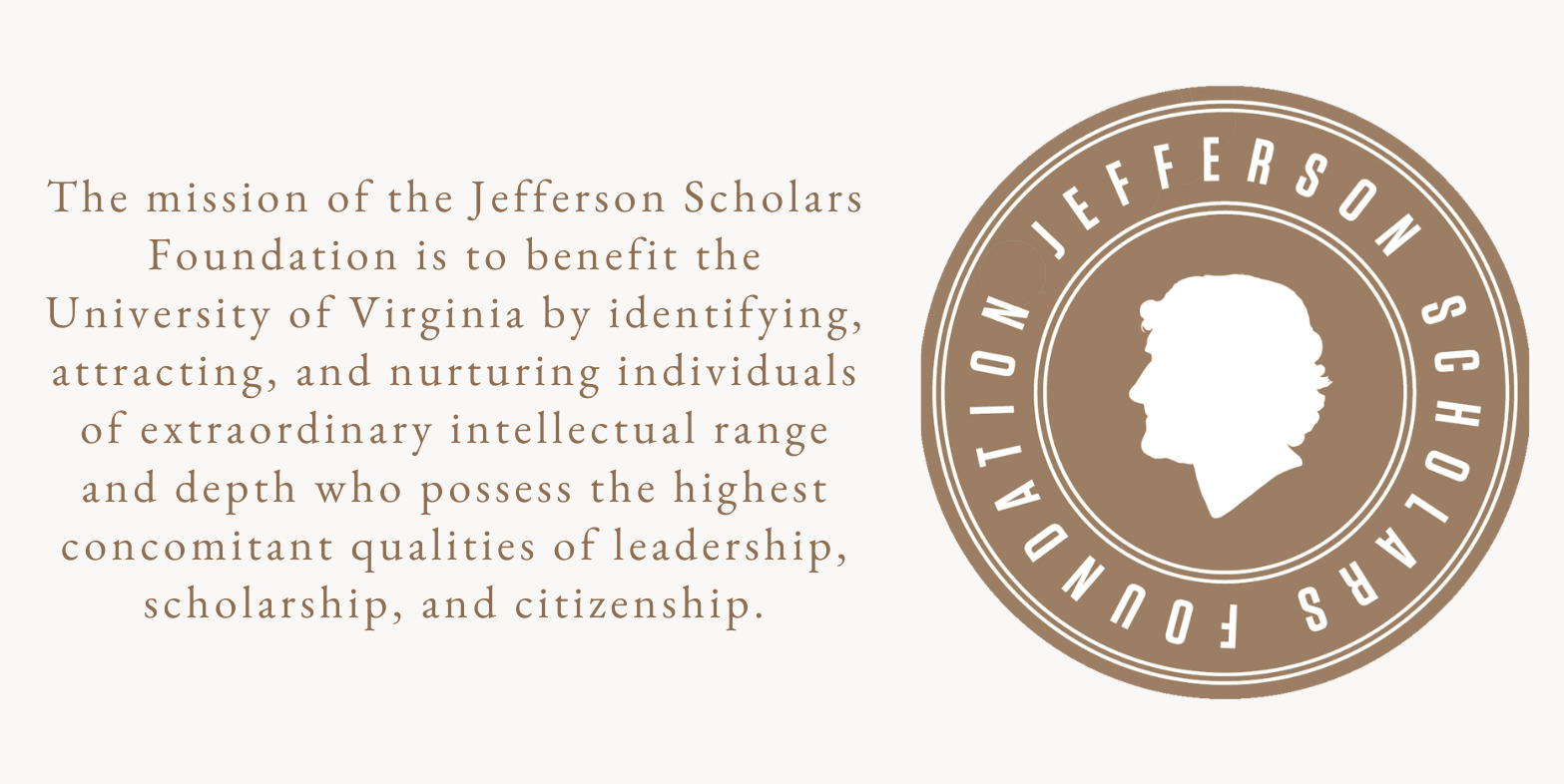 Board of Directors
The Board of Directors is responsible for exercising all corporate matters and for managing the business and affairs of the Jefferson Scholars Foundation.
William L. Polk Jr., Chairman (Col '78)
Managing Director, Egis Capital Partners
St. Louis, Missouri
Franklin S. Edmonds Jr., Vice Chairman (Col '91, Law '95, GSBA '95)
Managing Partner, Panning Capital Management
Charlottesville, Virginia
Karen Clarke Barnes (Col '87)
Principal, North View Landscape Design LLC
Alexandria, Virginia
Shahnaz Batmanghelidj
Mill Neck, New York
T. Westray Battle III (Col '98)
Senior Vice President, CRAFT Digital Media
Washington, DC
Leonard J. Buck II (Engr '86)
Founder, Blue Bright Ventures LLC
Chapel Hill, North Carolina
Robert G. Byron (Col '73, Law '76)
Chairman, Blue Vista Capital Partners
Chicago, Illinois
Stephen S. Crawford (Col '86)
Senior Advisor, Capital One Financial Corporation
New York, New York
Allison Cryor DiNardo (Col '82, GSBA '88) *
President, King Street Wireless
Alexandria, Virginia
Merry W. Dougherty (Col '90)
Owner, Meridian Capital
Louisville, Kentucky
Robert W. Downes (Com '85)
Partner, Sullivan & Cromwell LLP
New York, New York
Kirkman Finlay III (Col '92)
Co-founder and Chairman, Quick Farm
Columbia, South Carolina
Raynelle Grace (Engr '03)
Head of Investment Stewardship, Vanguard Group Inc.
Herndon, Virginia
Jennifer Gwilliam (Col '91)
Evanston, Illinois
Thomas B.W. Hall (Col '02, Law '06)**
Vice President and Associate General Counsel, Capital One Financial
Richmond, Virginia
J. Dale Harvey II (Com '87)
Chairman and Chief Executive Officer, Poplar Forest Capital LLC
Pasadena, California
Tyler S. Henritze (Com '03)
New York, New York
Landon Hilliard III (Col '62) ****
Partner, Brown Brothers Harriman & Co.
New York, New York
Lawrence D. Howell II (Col '75, Law '79)
Chairman, Mentice AG
Switzerland
Paul R. Izlar (Col '84)
Partner, Prado-C
Atlanta, Georgia
E. Courtney Johnson (Col '81)
Tucson, Arizona
Richard C. Kellogg Jr. (Col '74)****
Chair, Basic Management Inc.
Houston, Texas
Mark T. Massey (Com '86)
Founder and Chief Investment Officer, AltaRock Partners LLC
South Hamilton, Massachusetts
Bruce A. Miller (Col '89)
CEO, Investure LLC
Charlottesville, Virginia
Timothy J. Naughton (Col '83)
Chairman, Chief Executive Officer and President, AvalonBay Communities Inc.
Oakton, Virginia
Anna M. Nekoranec (Col '86)
Chief Executive Officer, Align Private Capital
Sarasota, Florida
Robert S. Pitts Jr. (Col '86)
New York, New York
Anne W. Poole (Col '90)
Charlotte, North Carolina
Linda G. Renner (Col '86)
Managing Partner, Law Offices of Thomas R. Green
Chairman, Royal Banks of Missouri
Saint Louis, Missouri
James E. Ryan (Law '92) ***
President, University of Virginia
Charlottesville, Virginia
Dave Stevens (Engr '85, Engr '87)
Senior Operating Partner, Francisco Partners
Atherton, California
Deborah H. Valentine (Col '80)
Richmond, Virginia
*           Board of Visitors appointee
**         Board of Managers appointee
***       UVA President appointee
****     Emeritus member
National Advisory Board
Appointed annually by the Jefferson Scholars Foundation Board of Directors, the National Advisory Board provides ongoing support and counsel and meets once a year with the Foundation Board.
Andrew C. Blair (Col '82)
Alexandria, Virginia

J. Tyler Blue (Col '83)
Bellwether Enterprise Real Estate Capital LLC
Bethesda, Maryland

James L. Carlson (Engr '03)
Managing Member, Kinwell LLC
Mount Pleasant, South Carolina

Thomas P. Duke (Com '68, GSBA '71, GSBA '78)
Visiting Executive Lecturer, Darden School of Business
Greenwood, Virginia

William B. Dunavant III (Col '82)
President and Chief Executive Officer, Dunavant Enterprises Inc.
Memphis, Tennessee

R. Foster Duncan (Col '76)
Operating Partner, Bernhard Capital Partners
New Orleans, Louisiana

David B. Ern (Com '86)
Media Consultant, Self-Employed
Charlottesville, Virginia

Daniel F. Fisher Jr. (Col '72)
Associate Professor of Surgery, Univ. of Tennessee, College of Medicine
Lookout Mountain, Tennessee

Suhrid S. Gajendragadkar (Col '97)
Senior Partner, McKinsey & Co.
Arlington, Virginia

Jaye S. Gamble III (Com '81)
Co-Founder, Blu Venture Investors
Alexandria, Virginia

Eli T. Green (Col '98)
Managing Partner, Pinebloom Enterprises
Atlanta, Georgia

Celie S. Harris (Educ '70)
Millwood, Virginia

Sujal J. Kapadia (Col '90)
Oscar Health Insurance
New York, New York

Peter E. Kaplan Jr. (Com '96)
Managing Director, New Mountain Capital LLC
Washington, DC

William H. Lyon (Col '91, GSBA '00)
Vice President, Private Wealth Management, Morgan Stanley
Belvedere Tiburon, California

Henry H. McVey (Col '91)
Partner and Head of Global Macro, Kohlberg Kravis Roberts & Co.
New York, New York

R. Brand Morgan (Col '98)
CEO, Brand Properties, LLC
Atlanta, Georgia

Thomas F. Preston (Col '78)
Attorney, Sparkman-Zummach P.C.
Memphis, Tennessee

D. Alan Quarterman (Col '78, GSBA '82, Law '82)
Partner, Five Paces Ventures LP
Atlanta, Georgia

Carole M. Rogin (Col '71)
Founder and President, Clarion Management Resources Inc.
Delray Beach, Florida

Charles T. Rose III (Col '98)
Portfolio Manager, Morgan Stanley
Greenwich, Connecticut

Schuyler Sweeney (Col '09)
Head of Broker Relations, Surveyor Capital, Citadel
Chicago, Illinois

William L. Tyson (Com '84, GSBA '03)
Senior Managing Director, Co-Head of Investment Banking, Truist Financial Corp., BB&T Capital Markets
Richmond, Virginia

Carter V. Whisnand (Col '94, GSBA '01)
Managing Director, Silvercrest Asset Management Group Inc.
Richmond, Virginia

Robert E. L. Wilson V (Col '74)
Senior Vice President, Investments Financial Consultant, Morgan Stanley
Charlottesville, Virginia

Sarah F. Wilson (Com '03)
Partner & Director of Business Development, INDABA Capital Management LLC
Belvedere Tiburon, California